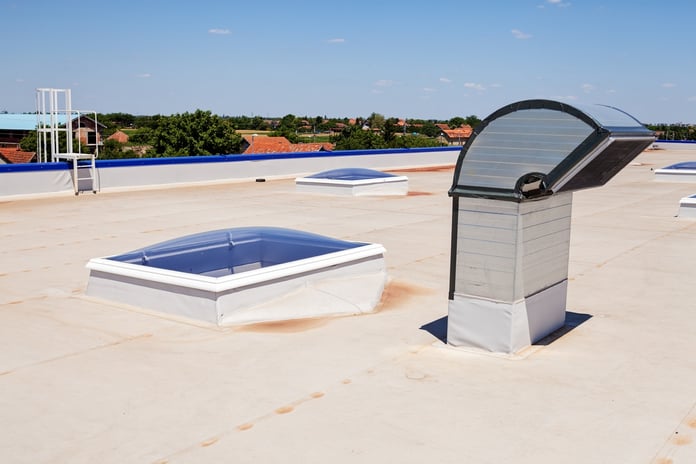 If you're starting to see signs of commercial roof damage, don't wait to discuss it with your contractor. What seems insignificant to you now may actually be signs of problems that can escalate into much bigger and thus more expensive problems. It can even cause problems in other parts of your building, putting more and more of your building and your livelihood at risk.
Learning to Recognize Damage
Whether you're a property manager or a CFO, awareness and understanding can empower you to take action to protect your people and your investment. Let's imagine two different scenarios: Property Manager A receives complaints about streaks on the walls and some leaks, but these problems do not seem big enough to require much action. They wait a year, during which time the leaks get worse. By the time the contractor is brought in, water damage and moisture have spread throughout the walls and insulation, making certain parts swell, potentially undermining the structural integrity of the roof itself. Now, they'll have to pay for a majority of the roof to be repaired and possibly will need to bring in other contractors to inspect the rest of the building. Meanwhile, Property Manager B faces a similar situation, but they recognize the aforementioned complaints as the red flag they are. When they head to the roof, they see standing water pooled in a dip in the roof itself. Manger B immediately calls the contractor and they determine an immediate plan of action to rectify the problem. Only some commercial roof repairs are needed, and it's at a fraction of the cost Manager A will have to pay.
Annual maintenance can also help you nip damage costs in the bud. A reputable roofer is an expert in recognizing the early signs of commercial roof damage and will have the best practices in place to check every aspect of your roof such as the facia, parapet wall, drip pans, and much more. They'll be able to recognize when your building suffers from bad roof repairs from previous contractors, check each of the leaks that you're aware of, and pinpoint the cause of any damages.
If you still don't think these are important things to check, consider this: Any water leaking into your building can give rise to corrosion and opens the way for mold, mildew, and rodents. The streaks it causes are an eyesore, if there is mold it can present health risks, and dripping water can pose safety risks, especially on tile or hardwood flooring. Pooling water can instigate two different risks: more mosquitoes, which present a host of their own health risks, and failure to repel and drain properly. Standing water will go on to damage more of your roofing than where it started.
Why It's Urgent
We really cannot understate the importance of acting, and doing so quickly at the first sign of roof damage. Continually putting off repairs will lead to higher amounts of stress, as well as high dollar repair projects. For instance, sagging in the roof that's filled with standing water could be indicative of the fact that either a roof deck joist is broken, or that there's been ponding on that part of the roof before.
To understand the damage that non-reputable contractors can leave behind, we can contextualize it with another narrative. A hotel hires a roofing contractor that came in under budget and earlier than their final deadline. Unfortunately, the roofer was able to do this because of cutting too many corners. Among other things, there aren't enough flashes, old cap metal is reused, the roofing sheets are the incorrect size, and they used inferior products. The owner thinks they've gotten a great deal, until a series of storms hit. They notice problems with leaking and moisture, but the problems don't seem that bad and contacting a roofer is put off. The last storm upgrades to a tropical storm. These storms are dangerous on their own, but inferior workmanship adds a whole new problem. Because the roofing material is the wrong size and not properly fastened, uplift pressure from the storm is able to progressively blow-back roofing material. Now the hotel is going to need to deal with potential legal fallout with the roofer while also finding a new roofer to get the job done right. They could have taken measures to prevent it if they had simply called a reputable roofer to take a look.
Avoid Major Damage: A Preventative Guide
Whenever possible, approach roofing with a proactive attitude that looks toward preventing hazardous situations from arising. Here are the first five steps to help you get started.
1. Hire A Reputable Commercial Roofing Contractor To Assess Your Roof.
You ought to have a routine maintenance inspection of your roofing at least once per year. However, if you think you may have a problem of any kind with your roof, you should do this again as soon as possible. Don't wait for the next routine inspection.
2. Get Quotes from the Reputable Commercial Roofing Contractor of Your Choice.
The roofer you contact for a quote should provide you with a free inspection report with photos and a plan of action which is actually speaking to your needs. If they give you a quote without really looking, you can be sure the price will go up later.
3. Have the Repairs Start ASAP, and Ensure They're Completed Quickly but Thoroughly.
Once you're confident in your choice of contractor, have the project started as quickly as possible. You don't want the damage to be allowed to worsen or spread. The initial damage should be handled thoroughly but efficiently in order to further minimize the risk of problems from the initial damage.
4. Continue Having Regular Inspections to Stay on Top of Potential Damages.
Your roof is what protects you and your company from the elements, but that means your roof is constantly exposed to them. Minor damages are likely to occur, especially during heavy storms. Regular maintenance inspections with contractors you can trust will keep you on top of small damages before they can become a real problem.
Please Note: Not All Severe Damage Can Be Prevented.
Regular maintenance is a checkup that keeps your roof in the best shape possible. It prevents small and average problems from coming together disastrously. It also helps minimize damage when something major occurs. Extreme events, such as hurricanes, will always be dangerous for you and your building.
Don't go any longer without ensuring the integrity of your company's roof. As a member of the FRSA, NRCA, and the Associated Builders & Constructors Inc., McEnany Roofing is qualified to help identify issues and develop a strategy to quickly fix your commercial roof and protect your company. Don't hesitate to contact us today, or if it's a roofing emergency, call us now at 813⋅988⋅1669 x 300.