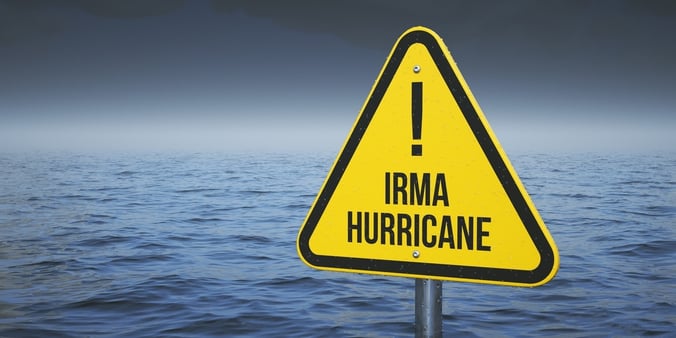 "Wind is expected to have caused between $2.5 billion and $4 billion in commercial loss." This startling figure was reported by CNBC in the wake of Hurricane Irma, which slammed into Florida in September of 2017. This estimate represents losses caused by winds that in some places topped 190 miles per hour. According to industry analyst Kurt Keaton, commercial properties saw roof damage, water infiltration, and damage caused by debris. In this post, we'll take a look at 3 important lessons about hurricane preparedness for commercial property owners.

3 Lessons From Hurricane Irma For Commercial Property Owners
1. Routine roof inspections are vital for commercial property owners operating in hurricane-prone areas.
A commercial roof inspection performed before the threat of severe weather will reveal damage and deterioration that could make your roof vulnerable in the event of a major hurricane like Irma. Items identified through an inspection can include:

Cracked cement

Cracked or decaying caulk

Open laps

Loose nails/screws

Water blisters
An inspection will allow you to properly prepare your roof
before
a storm hits, so it has a better chance to withstand severe weather and can help limit damage to other parts of your commercial property.
2. A routine inspection will also help you know if your commercial building is "hurricane-ready."
During a routine inspection, the inspector will identify items that may need to be secured ahead of a storm, such as vents, plumbing, a/c units, and other rooftop equipment or machinery. A small problem on a normal day could escalate into a major issue when a hurricane hits, and if a routine inspection had been completed prior to the hurricane, you might have been able to avoid major damage that started as something you were unaware of.

3. Be prepared.
It's important to be proactive and prepare for hurricane season with a commercial roof check-up to fix any issues that could cause problems before they arise. If you wait until hurricane season, or worse, wait until a hurricane hits, you risk dealing with damage that could have been avoided with proper preparation. Identify an experienced professional and have questions ready when they arrive to ensure you are prepared for anything you might deal with when hurricane season arrives.
Part of being prepared and proactive is not only an inspection, but allowing yourself time to make any necessary repairs to your commercial roof before hurricane season arrives. Hire a trusted professional that will help make the process seamless and painless so you can feel confident in your investment moving into hurricane season.

Commercial roof maintenance can make all the difference for a commercial property owner when it comes to weathering a hurricane. As Kurt Keaton points out, "Hurricane Irma really highlighted the importance of being well prepared." Having your roof inspected (and repaired if needed) before hurricane season begins can help limit your losses and minimize disruptions to your business.